FREE EBOOK: Guide to Achieving Cloud Security for Federal Agencies
If there was ever any doubt, the recent SolarWinds breach made clear that cloud security must be a priority for agency leadership. But even though the need for cloud security is clear, many agencies don't have the necessary skill sets in-house to deal with sophisticated, constantly evolving threats.

No one wants to testify before Congress on why their FITARA scorecard grade went down. How can you ensure your federal agency is prepared with solid cloud security?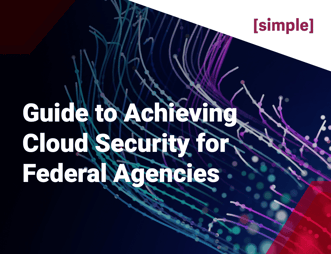 Download Guide to Achieving Cloud Security for Federal Agencies to learn more about:
Why FedRAMP isn't the total answer to better cloud security
What best practices will improve your cloud security
The importance of acing your FITARA scorecard
Have you embraced elasticity and scalability for your cloud infrastucture?

Government's Guide to Achieving Cloud Scale
Read this eBook to learn how to move toward using the cloud for designing and engineering applications and underlying infrastructure to embrace elasticity and scalability.
Schedule a Meeting with Us
Looking for more information on any of our service offerings? You can book a direct meeting with a Simple Technology Solutions representative easily by clicking the link below.